Sage Maple Skillet Corn Bread & A Virtual Dinner Party #Keystothekitchen
That was just as good as it looks... if not better…
But before we get into the recipe,lets talk about cookbooks shall we… I've mentioned a few times my adoration of cookbooks… although my taste are more toward the older (vintage you could say) cookbooks, there is an array of cooking books on my shelf from those that I consider cookbook masterpieces.. to the more (as I like to call them) cooking picture books.. you know the ones with the beautifully staged food laying amongst the grass surrounded by flowers and made with ingredients you would never find anywhere.. Those are nice.. to look at..
Then there are the books that go beyond the pictures and the recipes… they are more like reference guides, to assist us home cooks in becoming masters in our own kitchens..
(yes, Ask Aida.. I've always loved her)
Y'all know how I am about my cookbooks… I have fallen in love with this one… so when I was given the opportunity to partake in a Virtual Dinner Party to spread the word.. it has taken me this long to decide what to cook..
Keys to the Kitchen

is more like a cooking bible , that once read.. will show you from start to finish how to master just about every dish in your kitchen.. From the different cuts of meat to what vegetable pairs well with your dish,

when that vegetable is in season to the preparation of your meal and how to properly store it once cooked.
Ever

bought some herbs for a specific recipe and wondered what to do with any you had leftover… well Adia has a section in her book that breaks this all down for you.. My favorite section of the book is called "The Riff" it teaches you how to go beyond the recipes and get creative.
I've tried several recipes already and each is beautifully crafted with clear instructions to help you master each dish..
Purchase a copy of this amazing book here, and check out some other foodie friends joining in on the virtual dinner party fun.
Bev Cooks Dixie Caviar Edible Living Family Fresh Cooking Girl Hunter
Heather Christo Cooks Hip Foodie Mom Hola Jalapeño Ladles and Jellyspoons
Matt Bites Shutterbean Sprouted Kitchen Southern Girls Kitchen Stir and Scribble
Tartlet Sweets The Culinary Life Three Many Cooks Turntable Kitchen
Two Peas and Their Pod Vanilla Garlic Weelicious What's Gaby Cooking
With Style & Grace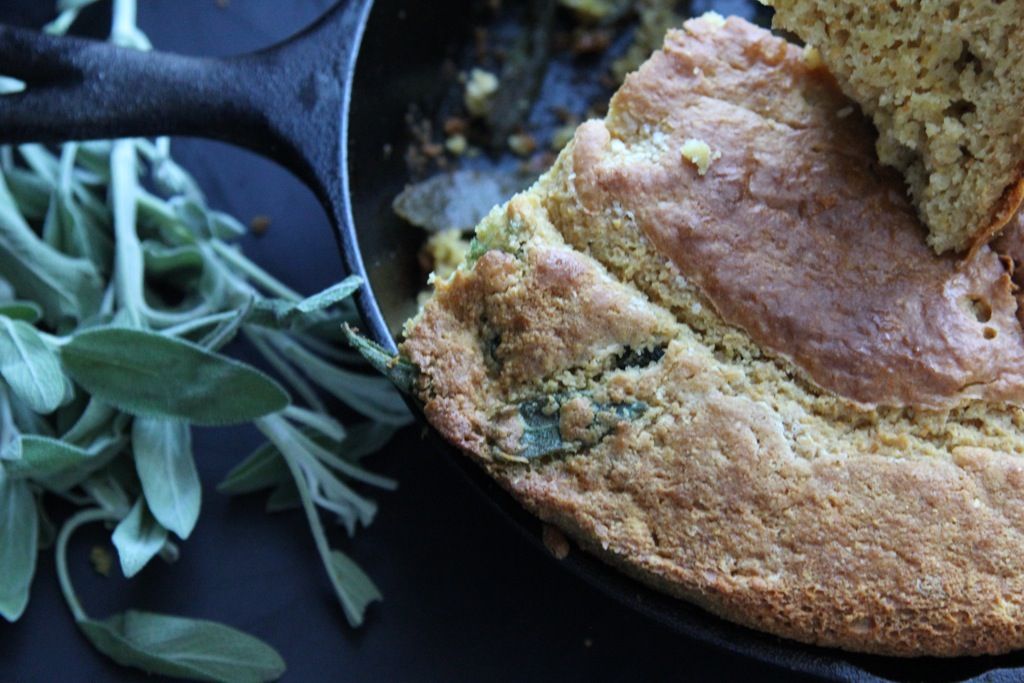 Sage Maple Skillet Corn Bread
recipe adapted from Aida Mollenkamp's Keys to the Kitchen
1 ½ cup stone ground cornmeal
1 ½ cup unbleached all-purpose flour
1 ½ cup whole milk, room temp
2/3 cup grade B maple syrup
Add butter to a large cast iron skillet and cook in the oven for about 5-10 minutes, or until butter is melted.
Meanwhile, in a large bowl, whisk together the dry ingredients (cornmeal, flour, salt, baking powder, and baking soda.) In a separate bowl mix together milk, eggs, and syrup until smooth. Add in dry ingredients and stir until thoroughly moistened.
Once the butter has melted, retrieve skillet from oven and pour the butter into the batter, stirring until all ingredients are thoroughly incorporated..
Sprinkle sage leaves across the skillet, then pour the batter on top.. (think pineapple upside down cake)
Return the skillet to the oven and bake for 25-30 minutes.. (mine took the entire 30 mins)
Invert bread onto a wire rack to cool, then slice and serve…