Warm & Spicy Gumbo Dip
A good friend of mine makes the best seafood gumbo ever
He's from the N.O and gets down in the kitchen with his "special roux" and holy trinity..
Gumbo has long been one of my favorites and I plan to cook, photo, and write about some in the near future.
But for now..because I'm lazy and Gumbo is a tad bit time consuming (hey..I'm just keepin it real) I'll show you this dip that is great to serve up during this time of the year
By that I mean Playoffs, Championships, yelling and screaming at the T.V
Ah hem.. They can't hear you love..
Any way, we're big sports fans in my house.. even the smallest one knows to point to the screen and say FOOTBALL…
Which obviously means that he is headed for the Pro's in about 18 years..According to my husband.
And in order to truly enjoy that game that your team is losing... No... No they are going to win..
They better WIN! You need before game snacks, 1stdown dips, halftime hotdawgs, and during game desserts…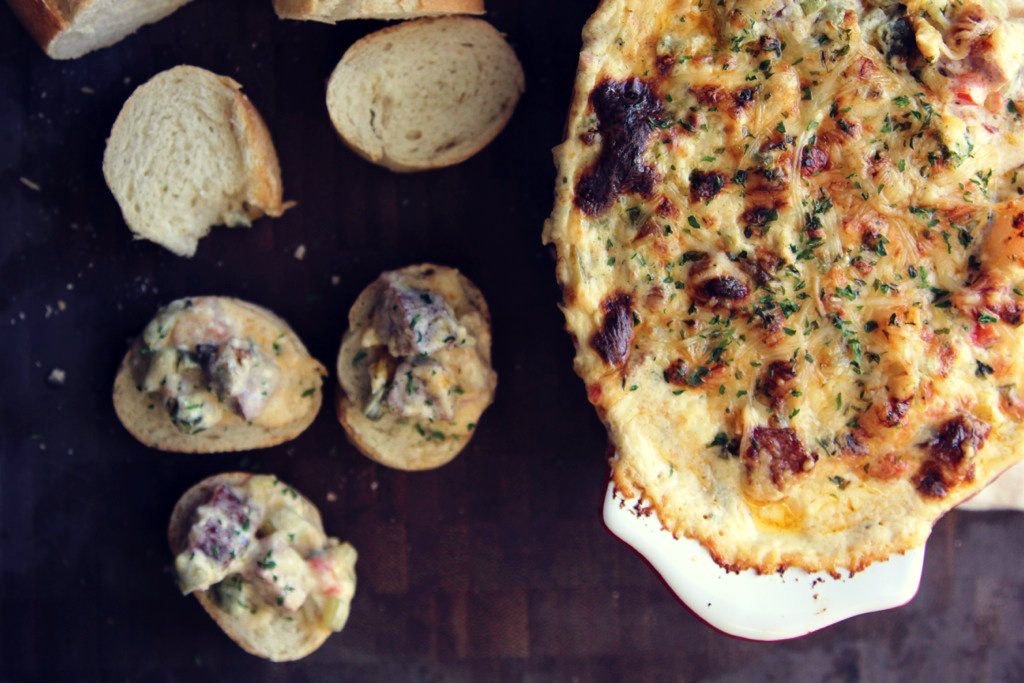 When I saw this recipe in Southern Living for Warm Gumbo Dip, I thought Hot Dayum that's right up my alley.. and with a few adjustments.. it has quickly become a game time favorite..
Unfortunately my Gumbo making homie didn't think it should be called Gumbo Dip.. and went into this long dissertation about the history of Gumbo which I only retained about
If only his opinion mattered…
Let's have some Warm Gumbo Dip..shall we..
Warm and Spicy Gumbo Dip
1 red bell pepper chopped
1 green bell pepper chopped
1 ½ pounds Large shrimp, peeled, chopped
14oz andouille sausage chopped
½ cup plus 2 tbsp. grated parmesan cheese
2 tbsp. chopped fresh parsley
Toasted French bread baguette sliced
Using a dutch oven melt butter over medium heat. Add green onions and peppers. Cook for 6 to 8 minutes, stirring occasionally or until peppers are tender.

Stir in shrimp, sausage ,garlic, and creole seasoning; cook for 2 minutes continuing to stir all ingredient together. Reduce heat to low;

add cream cheese and stir until cheese is melted.
Remove from heat and stir in ½ cup of parmesan cheese. Spoon mixture into a 2 qt baking dish.

Sprinkle with remaining cheese.
Bake at 400° for 25 to 30 minutes or until bubbly and lightly browned (or if you're like me.. a little toasted brown in certain place). Sprinkle with parsley and serve warm with French bread for dipping.